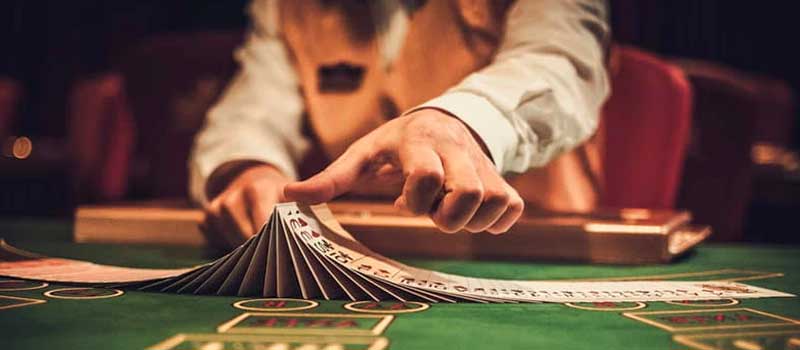 Any self-respecting casino will offer a series of online card games, and here you will be able to bet money. These games are perfectly regulated. Without authorization, online casinos cannot offer them. This is because we are talking about card games with money bets, and regularization guarantees users a reliable, safe and honest gaming environment, a fair game where only luck will decide your game. These games are played with French decks.
Poker
Poker is one of the most popular card games in the world, and the objective is to get the best combination. There are many versions, from the poker covered, the Seven-Card Stud, the Texas Hold'em, Omaha or Poker 224 as the most outstanding ones. The player faces the other players, being able to join the game when it has already started or reloaded if they run out of chips, as popular online as offline.
Players: 2 to 14
Number of decks: 1 (French)
Blackjack
The objective is to add 21 and/or beat the dealer, always without exceeding 21 points. The Ace is worth 1 or 11 points. The face cards (J, Q, K) 10 and 2 to 10 retain their value. The player receives 2 cards and then decides if he wants more cards or if he stands. Once stood, it is the turn of the dealer who is obliged to ask for a card if he has 16 points or less or to stand if he is between 17 and 21. There are two varieties, American blackjack and European blackjack, as well as versions such as surrender or multiplayer.
Players: 1 to 5
Number of decks: 4 to 8 (French)
Punto y Banca
It is a derivative of blackjack, with similar mechanics, although the dealer hides both cards until it is the dealer's turn, so the player plays blind. In addition, he is obliged to hit if he has less than 15 or a soft 17 (17-7). The dealer always wins the ties, and in addition to Pontoon (21), there is a special play called the 5-card trick, which consists of accumulating 5 cards without exceeding 21.
Number of players: 1
Number of decks: 4 to 8 (French)
Baccarat
Baccarat is a game where the objective is to reach 9 points, and you can bet on the winner: player, banker or tie. The Ace is worth 1, the number cards retain their value and K, Q, and J are worth nothing. The player and the banker receive 2 cards, and if they exceed 9, 10 is subtracted. Depending on the total of points, a third card can be called, and whoever is closer to 9 wins – subtracting 10 whenever 9 is exceeded. Victory pays 1 to 1 and a draw 8 to 1.
Players: 1
Number of decks: 3 or 6